Rubberdesk's 2022 London Market Report reveal that Central London is the most expensive city to rent an office at £742 per person, per month, followed by East London at £572, West London at £450, North London at £395, and South London at £300.
After hitting bottom in December 2021, rates have risen 2.3% QoQ as inventory has fallen 3% QoQ. This is a direct result of business demand for office space and despite net new additions of office space to the flex market.
However with a number of new flex centres that have opened or are set to open this year will provide the market with a more diverse range of office offerings. Ranging from premium high-end offices to more affordable flexible space. These include Landmark Space in King's Cross, Citibase in Holborn, Kitt Offices in Covent Garden, Work.Life in Shoreditch, Canvas Offices in Mayfair and Situu in Farringdon.
Central London Flexible Office Space
| Median Office Rate Per Person | Median Coworking Desk Rate | Flex Floorspace Available (sq. ft.) | Available Desk Capacity |
| --- | --- | --- | --- |
| £742.00 | £350.00 | 3,181,850 | 63,637 |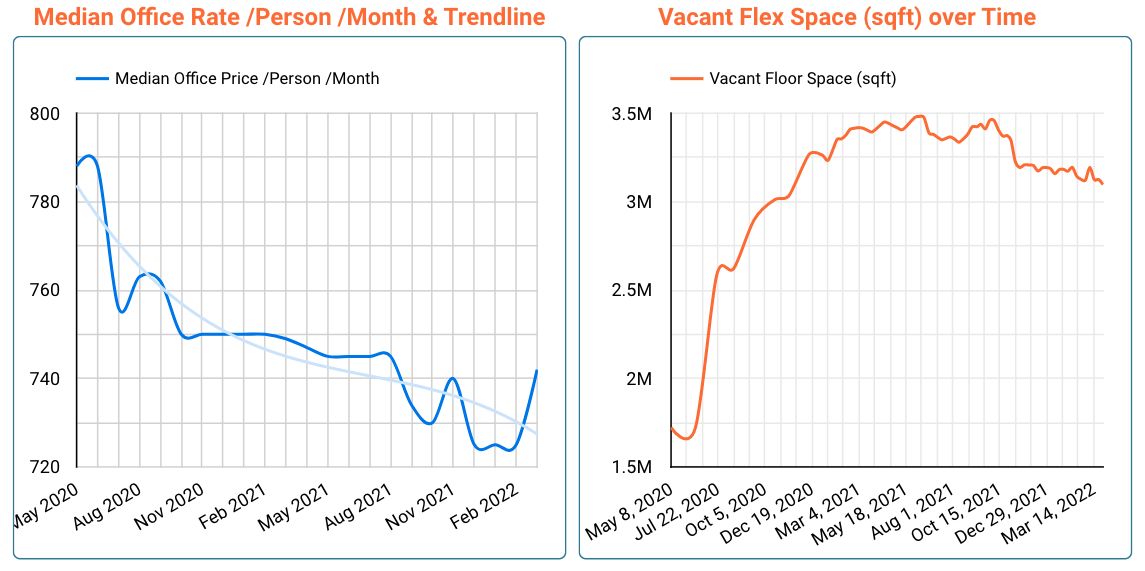 Prices by Region
Source Rubberdesk. All prices accurate as of March 23, 2022
Download the full report
The report shows that between April 2020 and March this year, the amount of vacant office space doubled with a net 2.3 million sq ft of flexible space becoming available.
Despite this significant increase, Rubberdesk predicts that as businesses seek to meet the needs of a hybrid workforce, the demand for flex space will rapidly grow.
Key Findings
High vacancy rates can be directly attributed to extended covid-lockdowns and the growth of hybrid work arrangements.
Central London has experienced the largest growth in flex offerings, with the majority of new centres opening in the past 2 years. This influx of new inventory brings the number of vacant flexible floor space to 3,181,850 sqft in Central London.
Median rates in East London currently sit at £572, nearing its pre-pandemic rate of £585. The most expensive area to rent an office in East London is in Wapping, with a median price of £824 per person.
Pricing in West London has remained stable in the past quarter after having dropped 18% since May 2020. Pricing in areas such as Hammersmith and Fulham are on the higher end, whilst in areas such as Ealing you can find premium offices at a lower price point.
North and South London have the lowest number of vacant flexible offices however with the upcoming opening of new flex centres, there will be greater choice for local businesses.
Find an Office in Central London