Nearly a decade ago, researchers studied how and why people thrive at work. The data showed that employees who belong to a serviced office space report levels of thriving at an average of 6 on a scale of 1 to 7, which is an entire point higher than for those who work in a traditional office.
Perhaps that's why a whopping 3.1 million people are currently utilizing flexible office spaces around the globe — a figure that's projected to grow by 5 million in the next several years.
In this detailed guide, you'll discover everything you need to know about the innovative and flourishing world of serviced offices — from insider lingo to top operators and pandemic protocols. Whether you're an independent contractor or the CEO of a big company, you'll learn how you can leverage serviced offices to increase productivity, create community, and save costs.

A serviced office is an all-inclusive leased space that professionals and companies rent on shorter-term all-inclusive rolling contracts. The short-term lease lets the tenant grow or downsize as needed, without having to wait for the traditional multi-year lease to expire. As a tenant, you still get everything you might expect from a professional office space including security, cleaning, maintenance, and even parking.
Today's serviced offices come in a variety of sizes, from a single dedicated room to a full building. Businesses of all sizes and types can find serviced office space with not just desks and chairs but also reception services, IT infrastructure, and meeting facilities.
If you're considering joining a serviced office workspace, you'll do well to become fluent in flexible office-speak. Here's a selection of common terms and what they mean:
Hot Desk
Hot-desking refers to a workspace system in which desks are rotated among people on an ad hoc basis. Hot desks can be implemented in coworking setups as well as private offices.
Because hot desks don't provide any sense of permanence, there's less and less demand for this one-time trend. As a result, most coworking operators have significantly cut down on the number of hot desks available to rent.
Dedicated Desk A dedicated desk is a membership option that provides a workspace just for you. It provides a more permanent setup and more privacy compared to hot-desking or using shared spaces only. You can also curate the space and leave your supplies right where you left them.
Managed Office A managed office is a vacant space that's rented out by a landlord or property owner. It doesn't typically come with furnishings, business opportunities, reception services, or other amenities.
Flexible Space A flexible, or "flex" space refers to any space that's offered to businesses that can tailor it according to their needs.
Know your costs with all-inclusive rent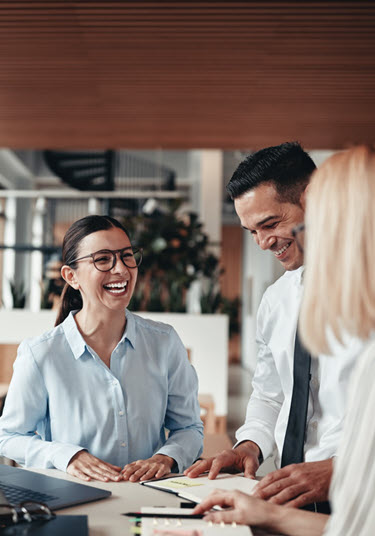 The rent for a serviced office typically includes furnishings, utilities, building maintenance, and other necessities that you would pay for out-of-pocket with a traditional lease. When you add up the cost of those other necessities, serviced offices usually cost less in the short term.
Only pay for what you use Whether it's meeting rooms you only use once a day or desks for future hires, Serviced Offices offer flexibility to grow your office space as your business grows and only pay for what you need.
Get down to business faster Serviced offices usually come ready to go and can be tailored to meet your needs. In most cases, the only item on a new tenant's to-do list is to choose the office layout. Everything else — conference rooms, lounge and kitchen areas, and more — are already there. The settle-in process is quicker, so tenants can start working faster.
Shorter leases give flexibility in times of uncertainty This is a big draw for many tenants to serviced offices rather than traditional leased space. Many facility management groups have lease minimums as short as three months. On average a 12-month term will get the best lease rate in a Serviced Office and is still much shorter compared to the three-year minimum more common in traditional office leases. The shorter lease term means that a business can grow faster or downsize as needed without having to wait for a lease to expire.
Adjust with less disruption Serviced office tenants often have the chance to rent more or less space in the same building. Instead of having to change their business address and move all of their stuff, the company just has to sign a different rental agreement. Along with simple and shorter legal agreements, the overhead to move is much lower than traditional leasing.
Further reading: The Top 10 Benefits of a Serviced Office
When Regus began, it was largely geared toward entrepreneurs, freelancers, and startups. In many ways, the industry still caters to these kinds of businesses, but it has also expanded to incorporate companies of all sizes.
Serviced offices are utilised by all of the following:
Entrepreneurs
Financial professionals
Small businesses
Startups
Large corporations, including Amazon, Microsoft, and Google
The cost to rent a serviced office can vary by location, type of building, amount of space, and amenities provided. The median cost to rent an office ranges from £193.00 in Lambeth to £820.00 in Westminster with the median price across the UK at £353.00.
The median cost to rent a serviced office for 5 people in London is £2,905 per month while the median price for a 10 person office in London is £7,050. But depending on your budget and desired location, the price can vary from £6,000 per month to upwards of £12,000.
To help you budget for your next office we've analysed the data and put together a number of useful price guides for you:
Today, there are extensive options when it comes to coworking spaces, including:
Full-service
Private
Shared
Lifestyle
Specialized
Virtual
Floor
Office suite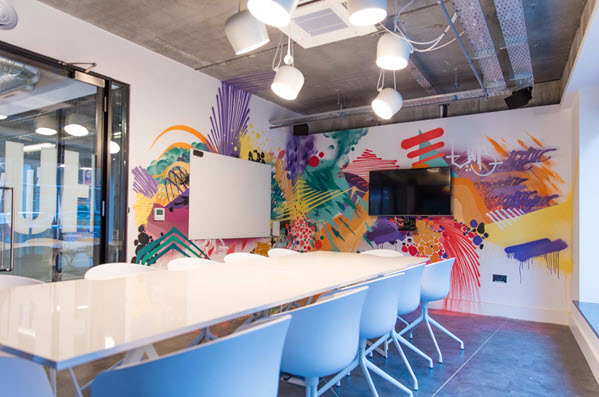 There are various factors to consider when choosing the right coworking space for you.
The most important component is the location — you'll not only want to find a space that's easy to commute to, but one that's also near shops, restaurants, and other businesses.
Next, you'll want to think about what kind of workspace is best suited to your needs, and what kinds of resources you want access to. And don't forget amenities. Ask yourself: What perks do I want with my membership?
Last but not least, you must consider the cost. As mentioned earlier, there's a range of membership plans available, each at a different cost.
Once you've narrowed down your list of coworking spaces, go ahead and schedule a time to tour the space. Get a feel for the environment (taking note of things like natural light and noise levels), sense of community, and quality of the materials.
These factors should play into your decision:
Location
Layout
Amenities
Access to meeting rooms
Community and Collaboration
Sign-up/renewal process
Pricing
Flexibility
Work environment
Comfort
Events and Education
Cleaning Protocols
Whether it's Mindspace vs The Office Group, the Labs UK vs Orega Serviced Offices or Landmark vs Clockwise your options for serviced offices are vast, when it comes to choosing the right space for your business.
Compare Coworking & Serviced Office Operators