The appetite amongst business owners to secure new offices this year has been increasing circa 20% MoM every month this year so far (based on the number of enquiries through Rubberdesk).
Prospective tenants often come with a wishlist that includes an emphasis on collaborative spaces and leaning towards high quality fitouts and facilities that best attract employees back to the office.
What tenants don't tend to know is whether they should take a Lease on an office or rent a Serviced Office. Sometimes it's a lack of information or understanding that leads to one option being ignored in favour of the other; or it's Broker-Bias that decides the outcome.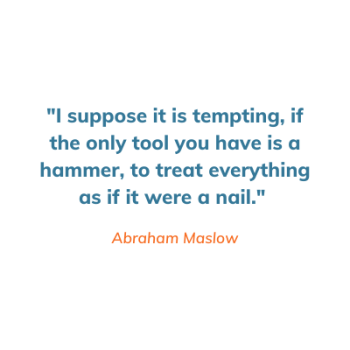 When receiving a prospective tenant enquiry for office space, most brokers will turn to what they know best, and for most Commercial Real Estate Brokers that involves taking a Lease on an office even if a Serviced Office might be a better option. The same is true* of Serviced Office Brokers, but since they are by far outnumbered by Leasing agents there's a considerable Broker-Bias towards Leasing over Serviced offices.
(*Exceptions to this (in our humble opinion) are Cadigal & Rubberdesk as the only Joint Venture between Leasing specialists and Serviced Office specialists)
So to help you select the right option for your business, we've put together the definitive guide that compares Lease with Serviced, and a handy Q&A to help you get clarity on the best solution.

Serviced offices are operated by companies that specialise in building and managing great places to work. They typically take a long term Head Lease over a number of floors of commercial office space from Landlords and fit it out so that discrete smaller offices that can be rented by businesses on shorter terms.
These operators add value through good design, provision and management of common services, meeting rooms, cleaning and all outgoings. This makes it very easy for businesses to move in and focus solely on their business, without the hassle of also managing the office.
Serviced Office
Leased Office
Length of Term
Service agreements range from 3-, 6- or 12- month terms. The best prices are for longer term rentals. Monthly rentals are available but these come at a premium.
3 or 5 year lease terms are the norm. Any shorter and the fit-out costs become disproportionate. Longer terms carry better incentives.
Pricing
Quoted as an all inclusive monthly rate. (Meeting room usage is typically Pay As You Go. However, some Serviced Offices include credits for meeting rooms in the monthly cost).
Quoted as a Gross price per square metre per annum. Multiply the sqm of the office by the Gross price to get your annual cost. Price excludes fit-out, electricity and internet.
Discounts / Incentives
Typically a number of months rent free on the term of the agreement. The longer the term the greater the discount.
Typically a percentage of annual cost given back to the tenant for the purposes of contributing towards the fitout or as an incentive to reduce rent.
Bond / Bank Guarantee
Typically 2 months rent held in Trust.
Typically 6 months Gross Rent held in Trust.
Fitout
Included and ready to go. Options include changes to the furniture and layout.
Empty shell for you to build what you need.
Branding
You can often add your branding to your space, but shared areas are either heavily branded or completely unbranded - depending on the service provider.
You have complete control within your space, but common areas often remain unbranded.
Reception
Typically included and staffed, for clients to be greeted and packages received.
Build and staff at your expense.
Space / person
Average ~4.5 sqm / person. That's based on the size of your private office. There are additional common areas and meeting rooms that aren't included in that. In reality it's up to you. If you want more space then simply remove some desks.
Average ~10sqm / person. However that's the total net lettable area of the Leased office, and includes meeting rooms, kitchen area. It excludes stairs, toilets and cupboards.
Services
Meeting rooms and printing are typically paid for on a pay as you go basis.
Build what you need and then no need to pay for more. But you are also unable to use more space unless there is a shared space offered.
Renewal Cost
Subject to market. The price can go up or down depending on demand. You can of course renegotiate or move!
Options to extend can be defined in the lease agreement upfront.
Annual price increase
Service Agreements typically extend to a year. After that it becomes a renewal.
Defined in the lease agreement and typically in line with CPI at ~4% per annum.
Cost Item
Serviced Office
Leased Office
Monthly Ongoing Costs:
Rent
Quoted as an all inclusive monthly figure.
Quoted Net of any other outgoings as a $ cost per square metre per annum.
Council and Government taxes, Water and Sewage rates, Strata fees, Land tax, Insurances, Property services - eg pest control and security, Property management fees, Maintenance costs (gardening, window cleaning, air-conditioning), Cleaning Tenant and Common areas,
Included
Additional (often quoted as outgoings)
One off Costs:
Fitout
Included
Extra
Make Good
Typically a predefined amount to cover cleaning
Cost to return to pre-fitout condition
Bond & Bank Guarantee
Y1-2 months Bank Guarantee.
Up to 6 months Bank Guarantee.
Services:
Internet & Wifi
Included.
Hardware and monthly service costs at your expense.
Gas and Electricity
Included.
Tenant arranges and pays.
Print / Scan facilities
Pay as you go.
At your expense
Meeting room access
Pay as you go for shared fascilities or rent your own dedicated room.
Use what you have.
Reception services
Included.
Tenant provides and pays.
Other Costs:
Insurance requirements
Nothing over and above your legal requirement.
Typically $20m Public Liability + Plate Glass cover and named landlord.
Furnishings
Included or BYO
BYO
To provide a clearer picture of the key cost differences, we compared like-for-like offices in the same building and with similar quality fitouts. In doing so, we assumed a team of 18 wanted the same sized office to sit in.
However, for the leased option the team wanted a boardroom, a meeting room and kitchen included, while for the Serviced office they were happy to use the meeting rooms on a pay-as-you-go basis.
The truth is, one option is not always better than the other. However, there are circumstances where one option will likely be a preference. And if there isn't a clear winner then you should consider both options.
Using the chart below, ask yourself these 4 questions to help make the decision between a serviced or leased office.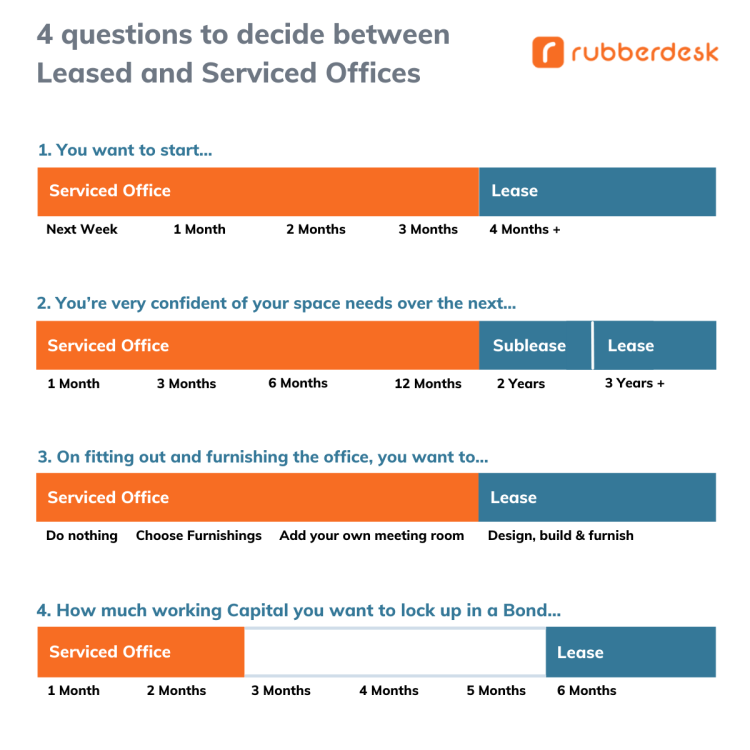 And that's it! I bet you thought we'd ask what kind of vibe / community / beer on tap would you prefer, but that's not what defines Serviced Offices and Coworking. Just like leased offices there is a whole range to choose from.
---
Local market experts with you every step of the way.
As specialist brokers in the flexible office market, Rubberdesk is across all the options, offers and availability. We have real time pricing for thousands of spaces listed by hundreds of providers to help find your next office.
It's EASY, FAST and FREE to use Rubberdesk.
Start by telling us what you need.
We'll give you a call back with a bespoke shortlist of options to discuss.
Or give the experts a call +44 (0)800 699 0655