The size and structure of the UK Coworking and Serviced (Flex) Office can, in effect, be broken down to two separate markets 1) Greater London & 2) everything else. With London making up 75% of the available Flex Office space across the UK, it heavily skews the monthly rental rates & available space.
The following report looks at the cost and availability of flexible office space in key cities outside London. Please visit our June 2023 London Market Report for analysis of rates across Greater London.
Desk Rates Remain Resilient Despite Surge in Supply

While London represents the lion's share of Flexible office space, the rest of the UK still makes up a quarter of the current supply. This report examines London and major markets outside of Greater London to get a feel for what's happening across the rest of the UK.
Though desk rates across the UK saw a modest 1% increase, the real story here is the surge in supply - something we haven't witnessed since the beginning of the pandemic. In fact, the amount of vacant space surged for a third straight quarter to reach 6,278,500 square feet.

When it comes to flexible office rates, the final price is often impacted by the location, grade of building, number of desks, and amenities included as part of the offering. Desk rates for smaller offices for 1-10 people outside London can often be found for less than £265 per desk while larger enterprise offices for teams of 26 or more will attract prices over £330 per desk due to extra amenities such as private meeting rooms.

Cambridge, historically known for rates comparable to London, has now overtaken the latter as the most expensive city for renting office space with desk rates soaring by 19% QoQ to £775. Meanwhile, Bristol and Cardiff have also seen significant increases of 4% and 10% respectively, reaching £375 and £225 per desk, thanks in part due to supply constraints. London, on the other hand, experienced a slight decrease of 2% to £612, while desk rates in Manchester remained resilient at £375 per desk.

Source: Rubberdesk September 2023
London: Desk Rates Dip as Supply & Competition Increase

With the threat of an economic recession on the mind of many business leaders, desk rates across London fell again for a 3rd consecutive quarter approaching the all-time low set in Q4 2022. Increased competition from traditional landlords forced operators to react with new deals pushing prices down 2% in Q3 to £611 per desk per month, while vacant space climbed 10% to 4,941,450 sq. ft. as a result of new supply coming to market.

Like many large global cities, desk rates in London vary by location and building grade. Median rates in Central London for example attract a desk rate of £684 compared to £477 in West London and £461 per desk in East London. For businesses happy to be located outside the city centre, desk rates in North and South London are an attractive option at £351 and £250 per desk.

With 44% of the available flex office space targeting teams smaller than 10, this segment offers space across all areas of London at a median rate of £599 per desk while spaces for larger teams requiring more than 50 desks will cost ~£723 per desk due to the extra amenities and private breakout spaces. Location also plays a role with enterprise offices in Central London in excess of £759 per desk.
Despite the dip, desk rates in sought after areas such as Mayfair, SOHO and Marylebone remained above £750 per desk.

Visit our Central London Office Price Guide and East London Office Price Guide for specific desk rates on regions within London.
Source: Rubberdesk September 2023
Manchester: Desk Rates & Vacant Space Hold Steady

As the second largest Flex market in the UK, following London, Manchester boasts a wide variety of offices suitable for businesses of all sizes, including those in need of over 100 desks. Larger offices typically offer additional features, such as private whole floors, meeting rooms, and private entrances, which cater to the needs of larger businesses. As such prices average £427 per desk for enterprise spaces.

After price gains in late 2022 and early 2023, desk rates for flexible office space across Manchester have since leveled off at £375 per desk. Though supply is up marginally, it has not been enough to impact rates.

The majority of available inventory is concentrated in Manchester City, offering a diverse range of office sizes. Offices in Old Trafford and Salford are also available along with limited options in Rochdale, Bury, and Bolton. Prices for these locations vary, ranging from £175 per desk in Bury to £525 per desk in Rochdale.

Visit our Manchester Office Space Price Guide for more details on the Greater Manchester region.
Source: Rubberdesk September 2023
Birmingham: Flex Rates Slide 23% on Weak Demand

With inflation and higher interest rates, demand for office space across Birmingham fell swiftly driving desk rates 32% lower to £250 per desk, the largest fall seen across the UK this year.

Rents vary by location as might be expected, with the city centre ~£300 per month, down 19% from Q2, compared to £231 in Coventry and £175 in Dudley.

Regardless of preference, businesses of all sizes will find a full range of spaces available, from the smaller 1-10 person office with a median price of £293, to larger enterprise-style offices with additional amenities for teams of 50 to 120 plus, at a slightly higher median price of £300 per desk.
On the supply side, larger enterprise offices with 26 or more desks increased 27% quarter over quarter while smaller offices with 1-10 desks fell 26% in the same quarter.

Visit our Birmingham Office Space Price Guide for more details on the Greater Birmingham region.
Source: Rubberdesk September 2023
Leeds: Desk Rates Slip 8%

After repeated quarters of price increases in the UK's fastest growing flex city, desk rates in Leeds fell 8% to £300 per desk. This decrease came on the back of an 8% decrease in vacant space to 46,300 sq. ft.

With more than 6,000 small and medium-size enterprises, which account for more than half of employment, it's no wonder that 66% of all flex offices are set aside for teams of 1-10 people. While there are larger enterprise offices for companies in search of a larger space with more than 25 desks, spaces are limited. On a positive note though, rents for these enterprise offices are priced competitively ranging in price from £160 to £249 per desk per month.

Source: Rubberdesk September 2023
Bristol: Desk Rates Rise 4.3%

Desk rates for flex space in Bristol have consistently defied expectations, soaring over 45% since the pandemic. Despite a further 12% surge in supply in Q3, rates reached an all-time high of £365 per desk per month—a 4.3% increase. This showcases Bristol as one of the most resilient markets in the UK, continuously outperforming the norm.

With 69% of all offices located in the heart of vibrant Bristol, the options outside the city centre are primarily limited to smaller spaces. However, businesses venturing further out will discover charming offices in Clifton, Parkwall & Walmley, and Patchway Conistion. Interestingly, these offices cater to teams of 1-15 people and are priced at a discounted rate of £279 per desk, providing a remarkable 24% reduction compared to their city counterparts.

Source: Rubberdesk September 2023
Desk Rates in Cardiff Rise 5% Due to Supply Constraints

With a large university presence, rental rates for serviced offices in the Welsh capital have rebounded from a low of £200 per desk in late 2022 to £225 in Q3 2023. Like Bristol and Cambridge, the rate rise in Cardiff is predominantly propelled by supply constraints.

Offices tailored for teams of 1-10, constitute 75% of the listings on Rubberdesk and significantly influence the median desk rate. However, for businesses looking for a more expansive space for 26 to 200 people, there are cost-effective options available at a 38% markdown. Though these enterprise offices tend to attract a higher premium in cities such as London and Manchester, businesses in Cardiff will find available options for as low as £140 per desk with further savings available for longer terms.

As one of the smaller city centres in the UK, most of the currently available offices are within a 2-mile radius of the city centre providing easy access to many of the amenities the city provides.
Source: Rubberdesk September 2023
Cambridge: Median Desk Rates Lead UK Market

Cambridge, with its close proximity to London and abundant talent pool, has experienced a surge in demand for flexible office space. In fact, desk rates in this thriving city have risen by 19%, reaching £775 per desk. As a result, Cambridge now holds the title of the most expensive city in the UK to rent flexible office space.

Driven primarily by the surge in demand from small businesses and startups, operators responded by significantly expanding the availability of offices tailored for teams of fewer than 10 individuals—an impressive 50% increase!

Enterprise offices with 50 or more desks command a slightly higher premium, averaging £806 per desk. This is attributed to the inclusion of additional amenities like private meeting rooms and offices. In contrast, coworking desks offer a more affordable option for solopreneurs or small teams who don't require a private space, priced at £350 per desk.
Source: Rubberdesk September 2023
Download the full report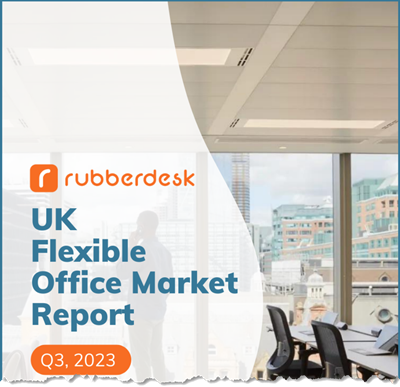 Click here to download the print friendly report.
Rubberdesk is the UK's flexible office marketplace with thousands of fully furnished serviced offices and coworking desks ready for you to move in and rent by the month or year. Since having launched in the UK in early 2020, the Rubberdesk platform now encompasses over 7,000 offices, an estimated 6 million sq. ft. of space with a capacity for 115,000 people.
Rubberdesk's proprietary platform combined with industry insights from their office specialists helps customers find the best office for their unique needs. With a view across all available options, they simplify the process to create a bespoke shortlist, arrange tours and negotiate the best deals. All for free and without obligation.
For further information, images and interview requests, please contact Laura O'Sullivan at Rubberdesk: