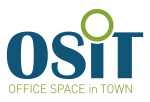 ‌‌Office Space in Town — abbreviated as OSiT — offers several flexible workspace solutions for businesses and individuals. Using a variety of criteria, the company locates ideal buildings, refurbishes them, and transforms them into stimulating coworking spaces. Office Space in Town prides itself on its high-quality, serviced offices as well as its variety of elements designed to support an effective work environment.
At Office Space in Town, clients get more than incredible serviced offices for rent: The company also has knowledgeable staff at each location who can expertly respond to client needs and challenges. The company also places a significant focus on social responsibility by supporting charities, encouraging sustainable buildings, and promoting green energy.
Amenities & Features
Serviced meeting rooms
Client lounges
Breakout spaces
Soundproofing
Sit-stand desks
High-speed internet
Kitchen facilities
Gym studio
Cycle storage
Showers
Dining areas
Onsite management team
Enterprise Offices
Coworking Space
Explore all OSiT's locations on Rubberdesk.