Birmingham Office Price Summary
With more than 1.5 million residents, a thriving business community and a rich history as the world's first manufacturing town, it's no wonder businesses are flocking to Birmingham. Whether you're a new business or now just looking to readjust your office space post pandemic, the city of Birmingham in West Midlands has plenty of options available for businesses of 5 up to 150.
Like Manchester, the amount of flexible office space increased throughout the pandemic as companies were forced to work from home and where possible exited their flexible short term rental agreements. However, after 7 consecutive quarters of upward momentum, the amount of available space dropped quickly this past quarter and is now back to pre-pandemic levels.
While many other cities across the UK have seen price decreases in the range of -20%, prices for flexible office space in Birmingham have been relatively modest. Despite a 6% drop in in 2020, prices rose in 2021 before finally dropping Q4 as a result of the increased inventory and uncertainty in the marketplace, to end the year at a median price of £379. But as inventory fell quickly this quarter, the median cost of flexible office price increased by 7% to £395 per desk and is now above pre-pandemic prices.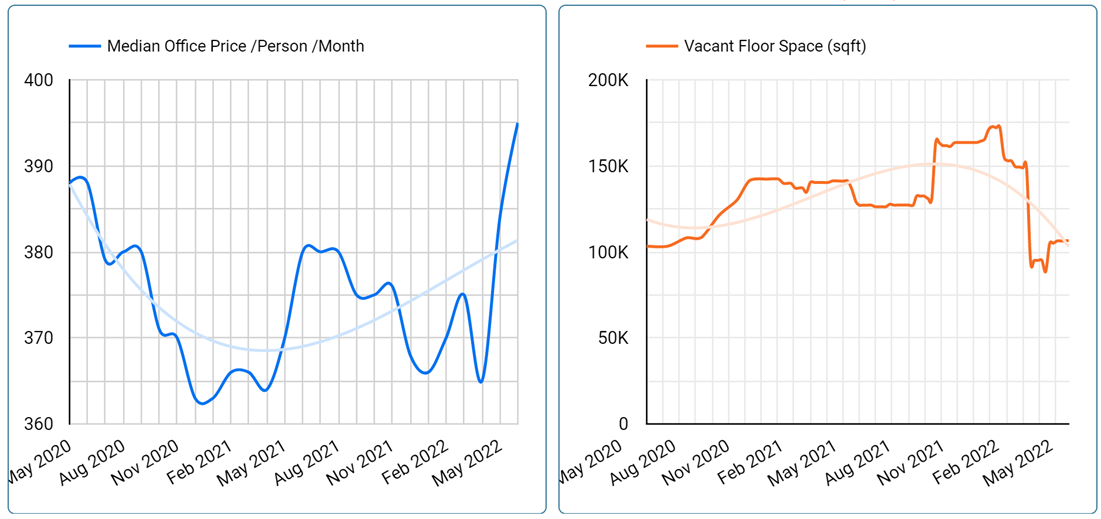 The charts above highlight the median price of office space per person per month and the vacant flexible office space in sq.ft. across the UK to June 2022 Source: Rubberdesk real-time availability.
With office supply up, prices will likely drop further in the first half of 2022 and may even hit all time lows as operators look to rent out their excess office capacity. For those businesses looking to rent new office space, there should be great deals on offer such as free rent for 1-3 months for those businesses willing to commit to longer terms of 1 year or more.
Birmingham Flexible Office Space
| Median Office Rate Per Person | Median Coworking Desk Rate | Flex Floorspace Available (sq. ft.) | Available Desk Capacity |
| --- | --- | --- | --- |
| £395.00 | £250.00 | 110,300 | 2,206 |
Price by Office Size
When considering the cost of a serviced officed, it's important to know that prices vary by a range of factors including location and the size of the office. Larger offices tend to cost a bit more as they may include private meeting rooms, extra amenities as well as a private entrance. Median rates in Birmingham range from £350 per desk for a 1-4 person office to £483 per desk for a 26-50 person office .

Price by Location
While most of the available flexible office inventory is located in the city centre, there are limited options available for teams of 1-15 people in Tyseley and Nechells with more affordable prices including a median rate of £250 in Nechells, £160 in Tyseley and £92 in Sheldon.
Office Capacity by Floorspace and Size
When it comes to the makeup of offices in each area, you'll find greater options for various size teams and supply in the city.
Offices for smaller teams under 15 people make up 75% of all available offices in Greater Birmingham. Though offices for larger teams of 50 plus people are limited they do represent a considerable portion of the available floorspace in Birmingham as they often include private meeting rooms and additional amenities.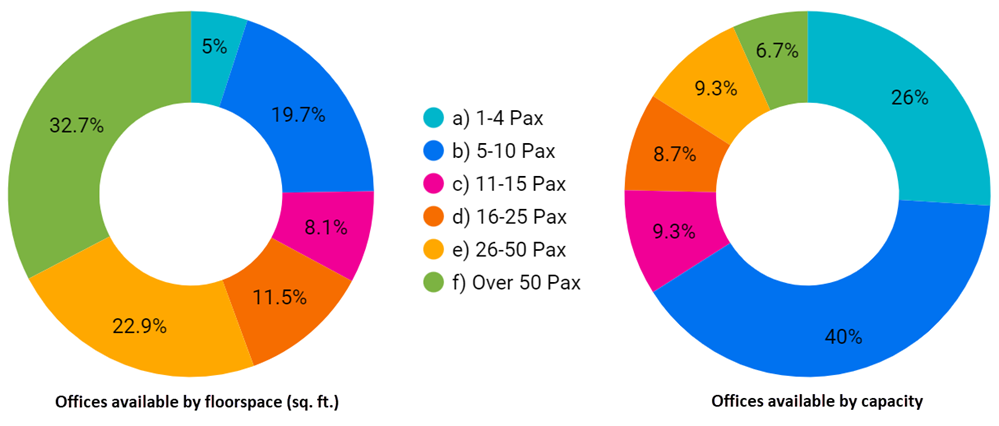 Birmingham Serviced Office Operators
Like many costs in business, office space comes in many different varieties often defined by location, quality of the building and amenities. In Greater Birmingham, The Boutique Workplace and WeWork lead the top end at a median price of £475 plus per desk while Bruntwood, Bizspace and Airivo provide great value for those on a tighter budget with median rates below £275 per desk per month.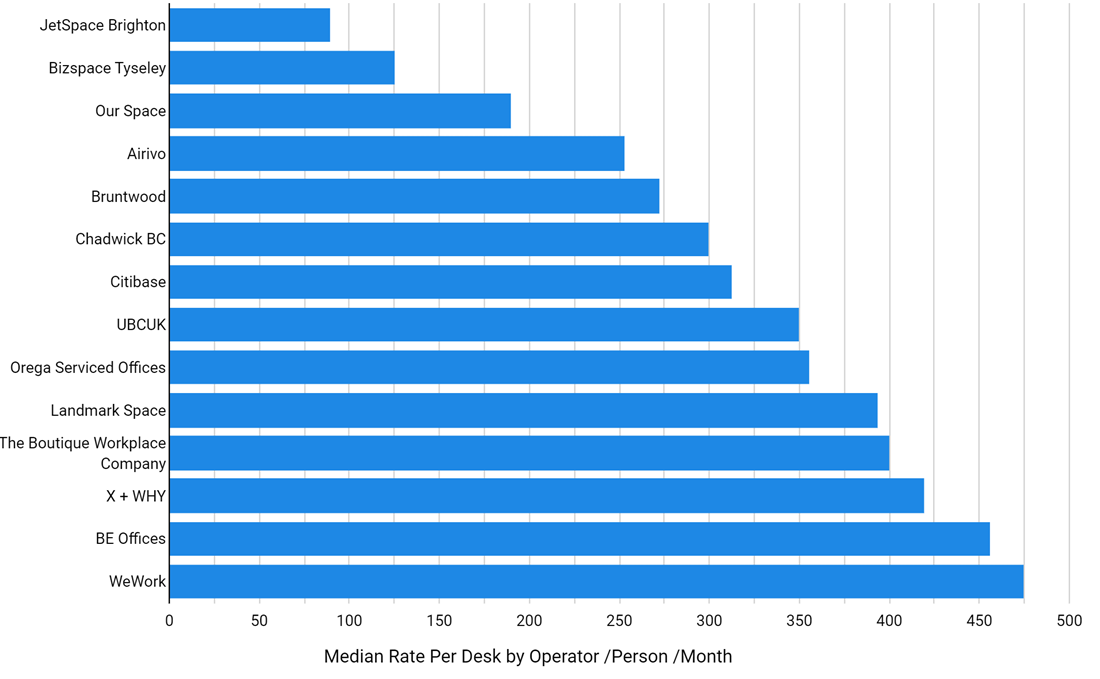 Comparing one operator to the other is not always easy on price alone as most operator's have their own vibe, style & fitouts that differentiate them from others. Thus we often recommend that businesses tour a number of spaces to get a good sense of the overall style rather then selecting on price alone. WeWork vs Regus for example often have very different styles. While WeWork's office style is often described as casual and relaxed, Regus (IWG) is professional and corporate.
What does it the Cost to Rent Flexible Office Space in Birmingham?
While prices in the city centre are reasonable, exspecially when considered to London, there is great value available for teams of less than 15 people in Nechells (£250) and Tyseley (£88).
| City | 1-4 Desks | 5-10 Desks | 11-15 Desks | 16-25 Desks | 26-50 Desks | 50+ Desks |
| --- | --- | --- | --- | --- | --- | --- |
| Birmingham City | £350 | £400 | £400 | £370 | £483 | £464 |
| Tyseley | £170 | £91 | £67 | | | |
| Nechells | £250 | £250 | £250 | | | |
| Sheldon | £100 | £88 | | | £82 | |
Source Rubberdesk. All prices shown exclude discounts and offers. Talk to us about the latest offers available.
Frequently Asked Questions
How much does it cost to rent office space in Birmingham?
As of June 28, 2022, the median price for office space in Birmingham is £395 per person per month.
How much does it cost to rent a coworking desk in Birmingham?
The median cost to rent a coworking hot desk in Birmingham is £233 per person.
How much does it cost to rent an office for 50 or more people in Birmingham?
The median price of a flexible office space for a large team of 50 or more people in Birmingham is currently £464 per person per month.
See Also
Local market experts with you every step of the way.
As specialist brokers in the flexible office market, Rubberdesk is across all the options, offers and availability. We have real time pricing for thousands of spaces listed by hundreds of providers to help find your next office.
It's EASY, FAST and FREE to use Rubberdesk.
Start by telling us what you need.
We'll give you a call back with a bespoke shortlist of options to discuss.
Or give the experts a call +44 (0)800 699 0655