Date: November 6, 2023
The synergy of superior transport links, vibrant economic hubs, and a rich talent pool make West London an ideal place to find an office. With key transit nodes like Hammersmith, Kensington and Heathrow Airport, businesses enjoy seamless connectivity and access to global markets, underscored by the Crossrail's enhanced transport capabilities. Combined with the high quality of life, West London's flexible office offerings are ideally positioned to support business growth and networking in a competitive, globalized economy.
In our West London Price Guide, we explore:
The economic landscape of West London is marked by thriving hubs and business parks, including the renowned Golden Mile and Park Royal. These strategic locations lay a strong foundation for corporate growth and industrial innovation. Moreover, the presence of esteemed educational institutions like Imperial College London ensures the continuous supply of qualified graduates, particularly advantageous for industries in need of cutting-edge research and development skills. West London's exceptional attributes collectively position it as a prime destination for businesses seeking to capitalize on international trade, superior logistical infrastructure, and a vast pool of talented individuals.
West London's diverse economy caters to a multitude of industry sectors, from creative industries to biotech, bolstered by policy incentives and development support that encourage business growth and innovation. The area benefits from a vibrant network of business chambers and associations that provide extensive support services, fostering a collaborative and supportive business community. The cultural diversity of the region not only adds to its social richness but also offers businesses a multicultural workforce and a broad customer base, enhancing the potential for market insights and expansion.
Desk Rate Trends in West London
At a median desk rate of £477 per month, West London represents great value and location for businesses needing quick access to Central London. As we move closer to 2024, we expect that prices to remain stagnant until business sentiment improves giving businesses time to find the ideal office for their needs.

The chart above shows the median office price /person /month of vacant flexible office space across West London to September 30, 2023. Source Rubberdesk real-time availability.
Vacancy Rate Trends in West London
Despite a 2% drop in Q3 supply, vacant floor space across West London increased 37% from the start of the year as new inventory in Hammersmith and Ealing from operators such as Scalespace and Bizspace was added to the Rubberdesk platform.

The chart above shows the vacant flexible office space in sq.ft, across West London to September 30, 2023. Source Rubberdesk real-time availability.
READY TO MOVE?
Rubberdesk is your one-stop shop to Research and Find your next office.
Or Call 0800 699 0655
| Median Office Rate Per Person | Median Coworking Desk Rate | Flex Floorspace Available (sq. ft.) | Available Desk Capacity |
| --- | --- | --- | --- |
| £477 | £280 | 345,150 | 6,903 |
Comparing Prices by Office Size in West London
When evaluating the cost of flexible office space, it's crucial to consider various factors such as location, amenities, and office size. Larger offices may come at a higher price due to additional perks like private meeting rooms, extra amenities, and dedicated entrances. For instance, in West London, median rates range from £385 per desk for a 1-4 person office to £563 per desk for a 26-50 person office.
The value of West London truly shines when comparing rates based on office size with the cost of similar spaces across greater London. Remarkably, prices in West London can be up to 36% cheaper than offices in Central London for a 1-4 person office. The discount rate for larger teams of 50 plus compared to those in Central London can be up to 43% lower. With its convenient proximity to Central London, there are plenty of compelling reasons to consider West London as an optimal choice for your business.

Median Monthly Office Rent in West London by Borough
West London is a tapestry of boroughs known for their unique blend of commercial dynamism and residential charm. Key boroughs include Hammersmith and Fulham at £541 per desk, with its commercial hubs and cultural venues like the Hammersmith Apollo; Ealing at £300 per desk, celebrated as the "Queen of the Suburbs" for its green spaces and community spirit; and Brent, where the iconic Wembley Stadium stands as a landmark. Harrow, with its prestigious schools, and Hillingdon at £310 per desk, hosting Heathrow Airport, are pivotal for their educational and economic contributions, respectively.
At £485 per desk, Richmond upon Thames boasts idyllic riverside locales and the vast expanse of Richmond Park, while the opulence of Kensington and Chelsea at a media desk rate of £550 is exemplified by luxury shopping and historic museums. Parts of Westminster, including areas like Paddington, often fall within the West London umbrella due to their geographical location and influence. Together, these boroughs forge a region characterized by its cultural diversity, economic opportunities, and high quality of life, making West London a distinguished and sought-after area within the capital.
Office Capacity by Floorspace and Size
Like many regions across London, smaller offices for teams with 15 or fewer staff make up close to 70% of the available offices across West London and provide the most choice and price points to smaller more nimble teams.
While you'll generally find a wider range of offices closer to the city centre, availability and variety across office sizes in West London, especially those found in the West End is quite strong with over 33 office spaces available for 50 or more staff. With extra space for private meeting rooms and additional amenities, it's not surprising that these larger enterprise offices for teams of 26 or more staff represent the lion share of the available floorspace in West London and come at a slightly higher premium per desk compared to smaller spaces.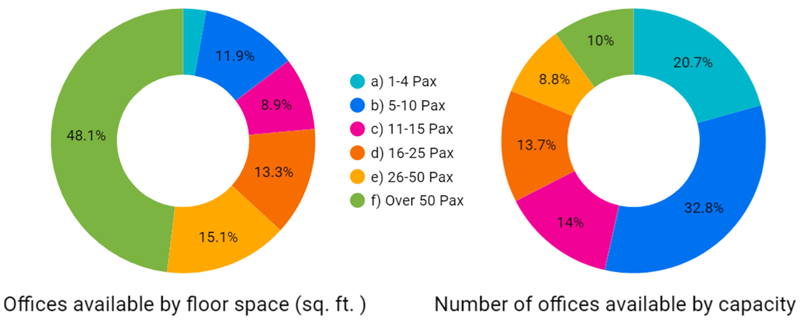 Tell us how we can help you
We'll narrow down the best options that meet your unique requirements.
Or Call 0800 699 0655
Like many costs in business, office space comes in many different varieties often defined by location, quality of the building and amenities. In West London, Landmark Space and The Office Group lead the top end at a price of over £800 per desk while Orega Serviced Offices and Missionworks provide great value for those on a tighter budget at £360 per desk per month.
When comparing different operators, it's not always sufficient to rely on price alone. Each operator has its own unique vibe, style, and fit-outs that set them apart from others. That's why we highly recommend that businesses take the time to tour multiple spaces, allowing them to gain a comprehensive understanding of the overall style, rather than basing their decision solely on price.
For instance, let's look at the comparison between WeWork and Regus. These two operators display distinctive styles. WeWork typically offers a casual and relaxed office atmosphere, making it an ideal choice for startups and digital professionals. On the other hand, Regus (IWG) exudes an air of professionalism and corporate sophistication, making it better suited for legal, financial, and corporate professionals.
By considering factors beyond just price, businesses can make informed decisions and find the workspace that aligns perfectly with their needs and working environment.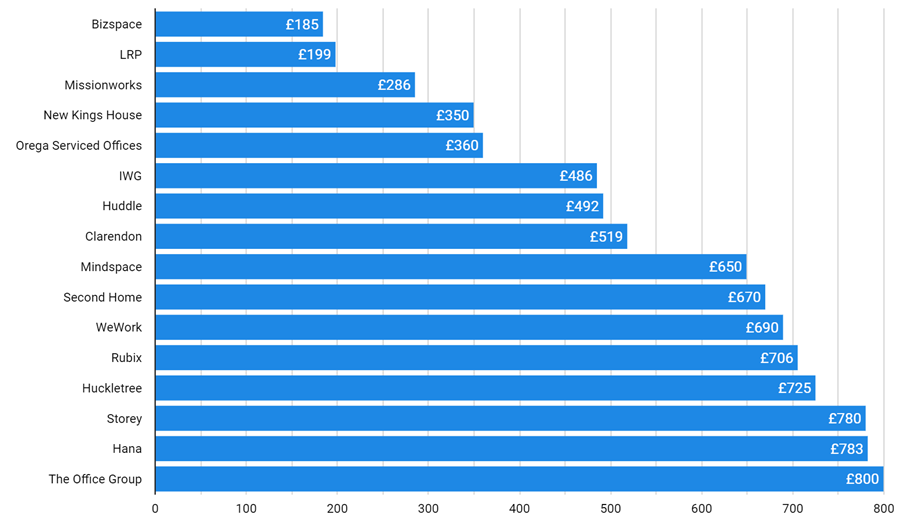 West London offers impeccable transportation infrastructure, making it an ideal destination for businesses. It boasts extensive underground and bus networks that provide convenient access to Central London and other areas of the city. Major transportation hubs like Paddington Station and Heathrow Airport, one of the busiest international airports globally, further enhance connectivity, offering unparalleled access to global markets.
Elizabeth Line: This new line delivers significant advancement in West London's transportation network, bringing high-speed connectivity across the region. The Elizabeth Line facilitates direct links from key West London stations such as Ealing Broadway and Acton Main Station to Central London's, Canary Wharf, Essex, and South East London making it easier than ever for employees to travel to the city centre and beyond when required.
Central Line: Spanning West London, the Central Line connects important stations like North Acton and Ealing Broadway, providing a direct link to the dynamic City of London and the vibrant West End.
Piccadilly Line: Serving the western most areas of London, including the bustling hub of Hammersmith, this line holds tremendous significance with its seamless connection to Heathrow Airport. The Piccadilly Line also offers convenient access to the heart of Central London and extends further to the enchanting north-eastern parts of the city.
District Line: Encompassing a substantial portion of West London, the District Line consists of notable stations such as Richmond, Kew Gardens, and Chiswick Park. It gracefully winds through iconic areas like Westminster and the City of London before branching out towards the vibrant east.
Hammersmith & City Line: Traversing through key areas of West London, including the vibrant locales of Shepherd's Bush and Hammersmith, the Hammersmith and City Line seamlessly connects to Central London and the extensive rail network at Paddington station. Explore the charms of the city with ease!
Circle Line: While mainly situated in central London, the Circle Line gracefully intersects with the Hammersmith & City Line on the outskirts of West London.
What Does it Cost to Rent Flexible Office Space in West London?
To simplify the process of finding a suitable office space for your team, it is important to clearly define your requirements. This includes determining the number of desks needed, specifying the desired location and amenities. By outlining these factors, you will discover that identifying the perfect solution is more manageable than anticipated. To further assist you, the following table presents a breakdown of office space costs based on the number of desks, facilitating your search initiation.
| City | 1-4 Desks | 5-10 Desks | 11-15 Desks | 16-25 Desks | 26-50 Desks | 50+ Desks |
| --- | --- | --- | --- | --- | --- | --- |
| Kensington | £600 | £680 | £281 | £520 | £675 | £379 |
| Chelsea | £511 | £565 | £457 | £560 | £1,037 | £948 |
| Hammersmith | £573 | £530 | £547 | £525 | £557 | £541 |
| Fulham | £550 | £550 | £550 | £682 | | £443 |
| Brentford | £396 | £311 | £350 | £333 | £294 | £460 |
| Uxbridge | £250 | £190 | £210 | £204 | £362 | |
| Hayes | £288 | £301 | £429 | £383 | | |
| Richmond | £332 | £351 | £374 | | £624 | |
Source Rubberdesk. All prices accurate as of September 30, 2023
West London is rich in economic hubs and business parks, such as the Golden Mile and Park Royal, providing a foundation for corporate growth and industrial innovation. A skilled workforce is nurtured by the presence of leading educational institutions like Imperial College London, ensuring a steady flow of qualified graduates, particularly beneficial for sectors reliant on cutting-edge research and development. These attributes collectively make West London a prime locale for businesses looking to leverage international trade, superior logistics, and a rich pool of talent.
Chelsea Office Space
Chelsea's prime location in London provides convenient access to the city's attractions, while also fostering a supportive environment for businesses. The council's unwavering dedication to enhancing the area's retail and hospitality sectors is evident through initiatives like permanent al fresco licensing. Beyond that, Chelsea offers a range of office space options to cater to diverse business needs. From flexible coworking spaces at Citibase Serviced Offices for budding startups to private offices at The Argyll Club for established enterprises, there is an ideal space to thrive in one of London's most vibrant neighborhoods.
| Median Office Rate Per Person | Median Coworking Desk Rate | Flex Floorspace Available (sq. ft.) | Available Desk Capacity |
| --- | --- | --- | --- |
| £747 | £250 | 24,350 | 487 |
Kensington Office Space
Like Chelsea, Kensington offers a wide range of office spaces with modern amenities, perfect for both start-ups and established corporations. These strategically located offices from flexible space providers such as Regus and Huckletree not only come with London's prestigious global business reputation but also provide a convenient gateway for international and local clients. With practical facilities and a prestigious address, Kensington is the ideal choice for businesses looking to establish a strong presence in the UK and on the global stage.
| Median Office Rate Per Person | Median Coworking Desk Rate | Flex Floorspace Available (sq. ft.) | Available Desk Capacity |
| --- | --- | --- | --- |
| £385 | £250 | 27,850 | 557 |
Rubberdesk is 100% free to use
Search, tour, book & get confidential expert advice for free and with no obligation.
Or Call 0800 699 0655
Hammersmith Office Space
With the Hammersmith, District and Circle lines crossing through Hammersmith, the area boasts excellent transport links and proximity to Heathrow Airport and City of London. With support from local government, access to affordable workspaces from the likes of Missionworks, Regus and Industrious and business growth initiatives, Hammersmith is an ideal location for startups and creative industries to set up shop. In addition, a partnership with Imperial College to foster innovation and a strategic location near fashionable areas and amenities, Hammersmith is perfect for businesses ranging in size from 5 to 100 staff.
| Median Office Rate Per Person | Median Coworking Desk Rate | Flex Floorspace Available (sq. ft.) | Available Desk Capacity |
| --- | --- | --- | --- |
| £541 | £350 | 101,300 | 2,026 |
Uxbridge Office Space
For businesses with staff residing near Uxbridge, the superb transport links available in Uxbridge ensure seamless connectivity for employees commuting to the head office in Central London or for client visits, optimizing both travel time and work-life balance. In addition, serviced offices and coworking spaces from Adapt by Arc and London CoWorks provide the flexibility to accommodate fluctuating team sizes with scalable workspace agreements.
| Median Office Rate Per Person | Median Coworking Desk Rate | Flex Floorspace Available (sq. ft.) | Available Desk Capacity |
| --- | --- | --- | --- |
| £200 | £160 | 17,550 | 351 |
Frequently Asked Questions
How much does it cost to rent office space in West London?
As of September 30, 2023, the median price for office space in West London is £477 per person per month.
How much does it cost to rent a coworking desk in West London?
The median cost to rent a coworking or hot desk in West London is currently £280 per person.
Our Office Price Guides
West London Office Price Guide
Local market experts with you every step of the way.
As specialist brokers in the flexible office market, Rubberdesk is across all the options, offers and availability. We have real time pricing for thousands of spaces listed by hundreds of providers to help find your next office.
It's EASY, FAST and FREE to use Rubberdesk.
Start by telling us what you need.
We'll give you a call back with a bespoke shortlist of options to discuss.
Or give the experts a call +44 (0)800 699 0655