City of London Office Price Summary - Q3 2023
Stretching along the River Thames from Temple to Aldgate Station and in the North from Golden Lane Estate to the Blackfriars, Southwark, and London Bridges, the city of London is an ideal choice for businesses of all kinds to conduct their operations. And with only 8000 residents, it's no surprise that the City of London is known more for the 350,000 workers who commute there by walking, cycling, or taking the underground tube or train each day.
As London's financial district, the City of London includes the largest number of serviced offices and coworking desks in London. In fact, no other city in the UK comes close to the options available for businesses and startups to choose from. Whether it's the bare basics or luxury in a tier-one building, businesses choosing to operate in the City of London have the widest range of options to choose from.
For fans of architecture, the City of London is also home to many of London's tallest and most notable skyscrapers. From Twentytwo at 22 Bishopsgate and the Leadenhall building at 122 Leadenhall Street to the architectural wonder of 30 St Mary Axe and the "Walkie Talkie" at 20 Fenchurch Street, there's an office in or near many of these great buildings.
Rubberdesk is 100% free to use
Search, tour, book & get confidential expert advice for free and with no obligation.
Or Call 0800 699 0655
Available Floorspace Surges 17% in Q3
With over 1.1 million square feet of flexible office space available, the City of London represents 15 percent of the short-term office space available across the UK. And with such a large concentration of offices, it's no wonder that the city also saw a large exodus of workers during the numerous lockdowns over the past two years which also led to a higher-than-normal vacancy rate across both traditional and serviced offices. Like Manchester, the amount of flexible office space increased throughout the pandemic as companies were forced to work from home and where possible exited their flexible short-term rental agreements. The following chart highlights the increase in floor space seen from the early months of the pandemic through to September 2023.

The chart above highlights the change in vacant flexible office space in sq.ft. across the City of London to September 30, 2023. Source: Rubberdesk real-time availability.
According to a recent coworking trends survey conducted by Deskmag, office operators in Europe noted that occupancy rates increased from 58% in late 2021 to 68% as of Q1 2023.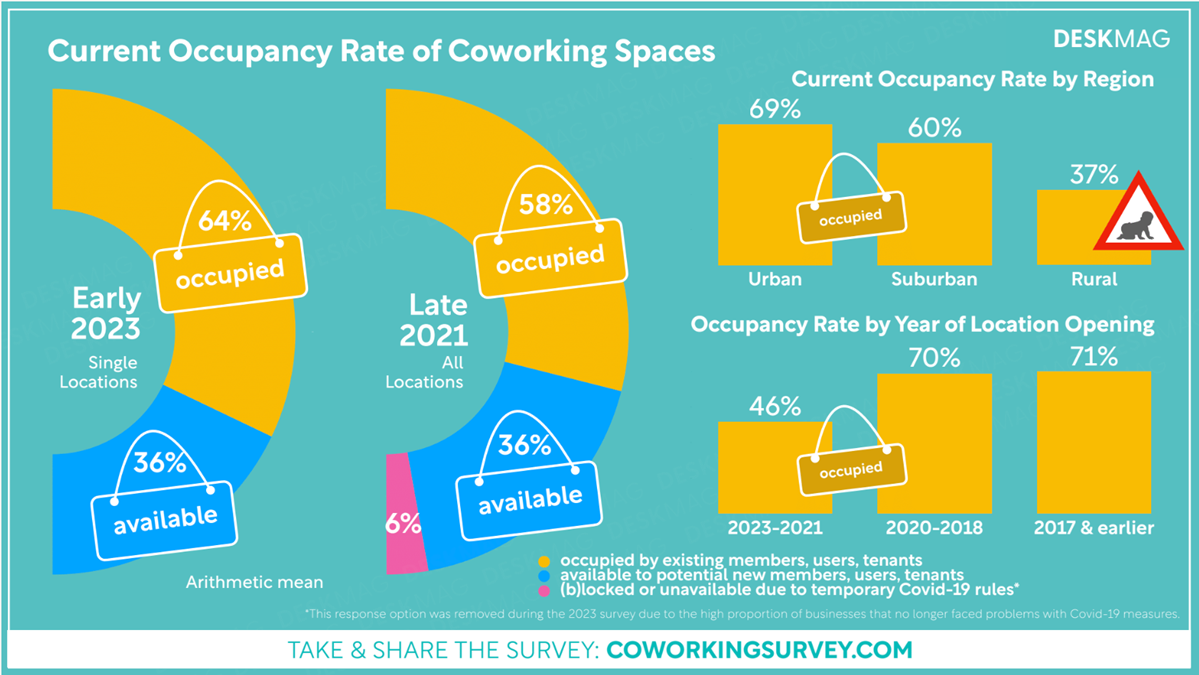 The chart above highlights the rate of available capacity in current coworking spaces across Europe. Source: 2023 Coworking Trends by DESKMAG
City of London Desk Rates Continue Downward Trend in 2023
After showing positive signs of a recovery in 2022, the slowing economy quickly eroded any gains and has been on a downward trend since the start of the year to a new low of £678 per desk in September 2023. While it's far too early to tell whether prices have hit the bottom, further interest rate increases and a struggling economy could keep rates low for some time to come. All of this of course is great for businesses yet to return to the office as there are great deals available for short term office space.

This chart highlights the change in the median price of office space per person per month across the City of London to September 30, 2023. Source: Rubberdesk real-time availability.
With continued inflationary pressure, the war in Ukraine and a souring economy keeping businesses on the sideline, desk rates in the City of London fell for a fourth consecutive quarter. For those businesses looking to rent new office space, there should be some great deals on offer such as free rent for 1-3 months for those businesses willing to commit to longer terms of 1 year or more.
City of London Flexible Office Space
| Median Office Rate Per Person | Median Coworking Desk Rate | Flex Floorspace Available (sq. ft.) | Available Desk Capacity |
| --- | --- | --- | --- |
| £678 | £325 | 1,114,750 | 22,295 |
Desk Rate by Office Size
When considering the cost of a serviced office, it's important to know that prices vary by a range of factors including location and the size of the office. Larger offices tend to cost a bit more as they may include private meeting rooms, extra amenities as well as a private entrance. Median rates in the City of London range from £ 650 per desk for a 5-10 person office to £769 per person for a private enterprise office with 50 or more desks.

Desk Rate Near Tube Stations
When it comes to finding the perfect office for your business in the City of London, access is everything. With so many offices located within such as small radius, you will generally find multiple options within a 10-minute walk of a major tube or train station. The following chart breaks down the median office price per person for offices located within a 10-minute walk of a station. For the budget conscious, you'll find better deals near [Chancery Lane Station]652(https://rubberdesk.co.uk/location/chancery-lane-london) for £550 per person while those wanting to be closer to Liverpool Street station will need a slightly larger budget of £700 per desk and up.

Office Capacity by Floorspace and Size
Whether you're a sole trader, a startup with a team of 10, or a well-established business in need of an office for 500, the City of London has the widest selection of different-sized offices available. Though offices for teams under 15 people represent 57% of all available offices giving small businesses the broadest range of options, these offices only occupy 18% of the available floor space. Though these smaller offices represent the lion share of available spaces, their percentage has fallen from 66% in June 2022 to 55% today as we see operators offer a greater number of larger spaces to meet the demand for enterprise offices.
On the other side, larger spaces for teams of 16 or more make up 82% of the floor space. They tend to have a much higher median price due to special inclusions such as private floors, meeting rooms, entrances, and amenities that cater to specific business needs. Though these enterprise offices for larger teams of 50 plus staff are limited in areas outside London, the same cannot be said for the City of London where medium to large businesses have plenty of opportunities from hosts such as Servcorp, Uncommon, The Argyll Club, WeWork and Situu to accommodate large teams.

READY TO MOVE?
Rubberdesk is your one-stop shop to Research and Find your next office.
Or Call 0800 699 0655
City of London Serviced Office Operators
Like many factors in business, office space comes in many different varieties often defined by location, quality of the building, and amenities. In the City of London, Milo Offices, Our Space, and Huddle have offices available for under £400 per person. while Uncommon, Storey, and Hana provide a higher-end option for those businesses with budgets over £800 per desk.
Comparing one operator to the other is not recommended on price alone though as most operators have their own style & fit-outs that differentiate them from other hosts. Thus we often recommend that businesses tour a number of spaces to get a good sense of the overall style rather than selecting on solely on price. WeWork vs Regus for example often have very different styles. While WeWork's office style is often described as casual and relaxed, Regus (IWG) is professional and corporate.
What is the Cost to Rent Flexible Office Space in the City of London?
With such a large number of workers commuting each day, the location of your office to transit is critical. Thankfully, there are hundreds of private offices available within a 10-minute walk of many of London's top tube stations.
Aldgate Station
Aldgate Station is an ideal choice for businesses seeking office space in London. Located in the East End of the city, close to Whitechapel and Shoreditch, it offers easy access to transport links such as bus stops (Route 15 and 25) and underground lines (Circle Line and Metropolitan Line). Businesses looking for office spaces here can choose from modern serviced offices suited to short-term let agreements or traditional leased properties with long-term options available. For amenities, there are numerous cafes in the area such as Cafe East and Lido Café, as well as shopping centres such as Whitechapel Market and Spitalfields Shopping Centre located just a few minutes away. Additionally, you'll find numerous parks nearby such as Tower Hamlets Park, Mile End Park and Victoria Park, perfect for leisurely strolls or perhaps a team outing. In sum, this vibrant area provides business owners with both convenience and leisure making it the perfect place for start-ups or entrepreneurs looking to set up shop.
| Median Office Rate Per Person | Median Coworking Desk Rate | Flex Floorspace Available (sq. ft.) | Available Desk Capacity |
| --- | --- | --- | --- |
| £622 | £325 | 403,550 | 8,071 |
Source Rubberdesk. All prices shown exclude discounts and offers. Talk to us about the latest offers available.
Frequently Asked Questions About Office Space in the City of London
How much does it cost to rent office space in the City of London?
How much does it cost to rent a coworking desk in City of London?
Author: Tom Petryshen, VP, Growth & Analytics
Updated: October 2, 2023
Our Office Price Guides
City of London Office Price Guide
Local market experts with you every step of the way.
As specialist brokers in the flexible office market, Rubberdesk is across all the options, offers and availability. We have real time pricing for thousands of spaces listed by hundreds of providers to help find your next office.
It's EASY, FAST and FREE to use Rubberdesk.
Start by telling us what you need.
We'll give you a call back with a bespoke shortlist of options to discuss.
Or give the experts a call +44 (0)800 699 0655