Manchester Office Price Summary
As the second largest city in the UK, Greater Manchester including Bolton, Bury, and Rochdale to the North and Stockport to the South has a range of options for businesses looking for flexible office solutions. While supply in areas outside of Manchester is still somewhat limited you'll find a wide range of office sizes and style with great amenities right across the budget spectrum. Like most large cities, majority of the flexible offices are located in the city centre, primarily in Deansgate with great selection just outside the city limits in Old Trafford.
Traditionally, prices for serviced offices in Manchester have been almost half the cost of offices in Central London. Like London, Manchester, prices and supply have been impacted by the pandemic with the median price across Greater Manchester dropping 13% from £429 in May 2020 to £373 per person this past quarter while the available number of offices and square footage has increased from 120,000 sq. ft. to 203,800 sq. ft. for the same period.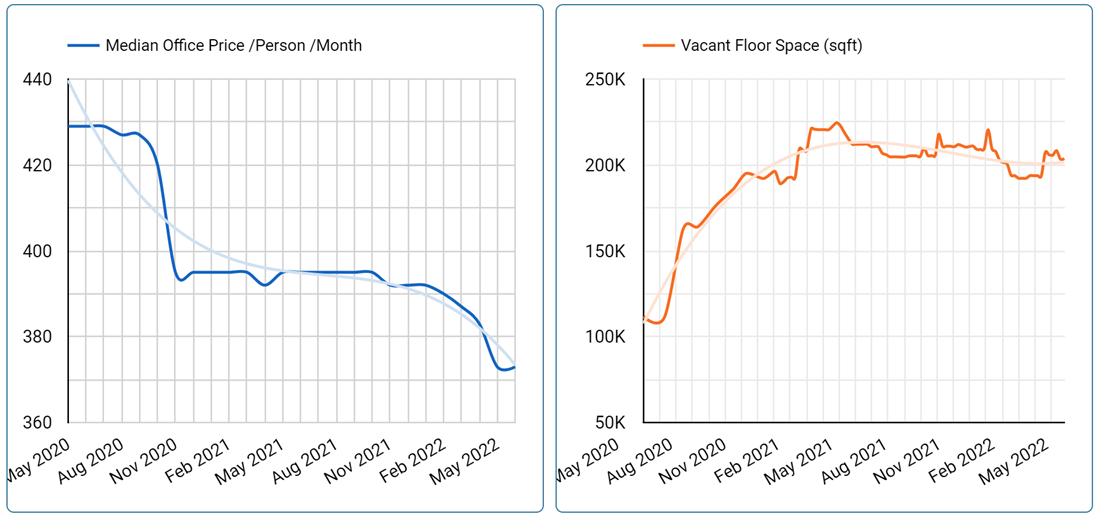 The charts above highlight the median price of office space per person per month and the vacant flexible office space in sq.ft. across the UK to June 2022. Source: Rubberdesk real-time availability.
As we move into the second half of 2022, we expect that prices will remain flat until some of the excess inventory is rented and as long as supply outweighs demand, there will be great deals on offer such as free rent for 1-3 months for those businesses willing to commit to longer terms of 1 year or more.
Manchester Flexible Office Space
| Median Office Rate Per Person | Median Coworking Desk Rate | Flex Floorspace Available (sq. ft.) | Available Desk Capacity |
| --- | --- | --- | --- |
| £373.00 | £225.00 | 203,800 | 4,076 |
Price by Office Size
When considering the cost of a serviced officed, it's important to know that prices vary by a range of factors including location and the size of the office. Larger offices tend to cost a bit more as they may include private meeting rooms, extra amenities as well as a private entrance. Median rates in Greater Manchester vary for example from £350 per desk for a 5-10 person office to £427 per desk for a 50+ person office.

Price by Location
By location, the median rates across Greater Manchester range from £175 in Bury to £440 in Rochdale with median monthly prices in Manchester from £350 per person

Office Capacity by Floorspace and Size
When it comes to the makeup of offices in each area, you'll find greater options for various size teams and supply in Manchester City, Old Trafford and Salford compared to Bury, Rochdale and Stockport.
Offices for smaller teams under 15 people make up 70% of all available offices in Greater Manchester. Though offices for larger teams of 50 plus people are limited they do represent a considerable portion of the available floorspace in Manchester as they often include private meeting rooms and additional amenities.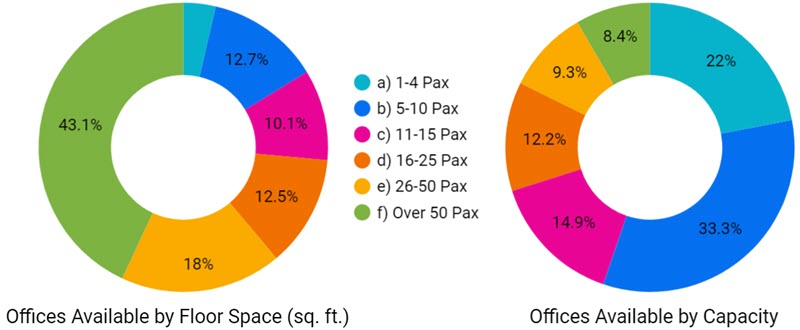 Manchester Serviced Office Operators
Like many costs in business, office space comes in many different varieties often defined by location, quality of the building and amenities. In Greater Manchester, Landmark, Hana and WeWork lead the top end at a median price of over £455 per desk while Citibase and Bizspace provide great value for those on a tighter budget at below £157 per desk per month.
Comparing one operator to the other is not always easy on price alone as most operator's have their own vibe, style & fitouts that differentiate them from others. Thus we often recommend that businesses tour a number of spaces to get a good sense of the overall style rather then selecting on price alone. WeWork vs Regus for example often have very different styles. While WeWork's office style is often described as casual and relaxed, better for startups and digital professionals, Regus (IWG) is professional and corporate, better suited for legal, financial and corporate professionals.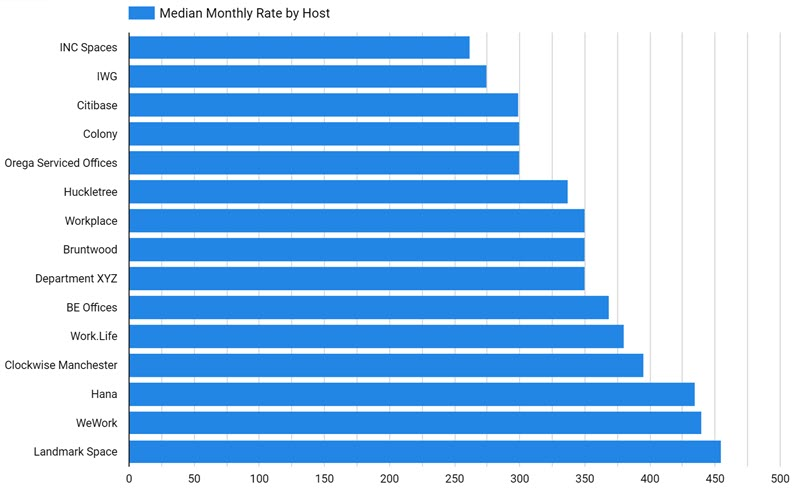 What does it the Cost to Rent Flexible Office Space in Manchester?
With the exception of Rochdale, median prices for office space outside of Manchester City is typically cheaper than those found inside the city centre with Salford and Old Trafford providing great value for those wishing to be located close to the centre. For offices slightly less expensive, Bolton, Bury and Stockport all provide good value.
Source Rubberdesk. All prices shown exclude discounts and offers. Talk to us about the latest offers available.
Frequently Asked Questions
How much does it cost to rent office space in Manchester City?
As of June 28, 2022, the median price for office space in Manchester City is £373 per person per month.
How much does it cost to rent a coworking desk in Manchester City?
The median cost to rent a coworking or hotdesk in Manchester City is currently £225 per person (as of June 28, 2022).
Our Office Price Guides
Related Articles about Manchester
Local market experts with you every step of the way.
As specialist brokers in the flexible office market, Rubberdesk is across all the options, offers and availability in Manchester. We have real time pricing for thousands of spaces listed by hundreds of providers to help find your next office.
It's EASY, FAST and FREE to use Rubberdesk.
Start by telling us what you need.
We'll give you a call back with a bespoke shortlist of options to discuss.
Or give the experts a call +44 (0)800 699 0655