The ideal workspace is changing. Instead of a classic office, a fully furnished or serviced office can unlock new levels of productivity for the modern workforce. When transitioning from a traditional leasing scenario to a shared workspace, there are many factors to keep in mind. Consider:
What kind of workspace am I looking for?
Which amenities are must-haves for me?
Which operators are highest-rated?
Do I have privacy needs?
For how long do I need an office space?
Beyond this, it's important to be aware of key elements in coworking spaces — such as the type of facilities available, the type of professionals sharing the space, and more. Below is a look at two of the most noteworthy coworking operations in the U.K. — The Office Group and Mindspace.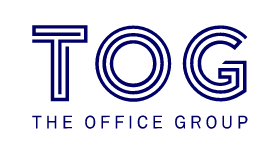 Founded in 2003, The Office Group, also known as TOG makes it easy to find a flexible workspace. This innovative coworking operation is best known for:
Productive Workspaces
What stands out most about The Office Group is its discerning eye for detail, which is evident in each of its beautifully designed locations. All its spaces feature natural light and carefully curated decor and amenities. In the interest of upholding innovative design, each space has been inspired by the unique architecture and location of the office.
Beyond stellar design, The Office Group offers a wide range of office solutions. From private meeting rooms to collaborative spaces, the company is committed to creating spaces that meet the needs of its customers. By tailoring its office solutions to each professional, The Office Group fosters an exceptionally productive office environment.
Flexible Contracts
The Office Group is known for its flexible contracts. This U.K. coworking operation allows customers to scale their space up or down when needed. The company makes it easy to rent its spaces monthly or yearly.
Convenient Locations
The Office Group values a stress-free commute. As such, it offers spaces at 38 convenient locations across London, including Shoreditch, Hammersmith, Waterloo, Notting Hill, and Covent Garden. The Office Group's workspaces have all been chosen in part based on ease of access to public transportation.

With three active locations in London — including Hammersmith, Shoreditch, and Aldgate — Mindspace has established a track record of providing Fortune 500 companies with all-inclusive managed office environments. Mindspace's London offices are just one part of its global network of boutique coworking. Mindspace provides:
Fully Furnished Spaces
Mindspace hosts hundreds of fully furnished offices with plug-and-play solutions. The layout of these ready-to-go spaces can easily be adjusted to fit the business needs of any professional. Mindspace even offers solutions that are complete with internet, cleaning, and bills included — ready to be used as-is or customised in innovative ways.
Mindspace prioritizes forward-thinking in its inclusive and bespoke office environments. From the architectural design to the office layout, every detail is carefully chosen.
Private Team Suites
The private team suites offered by Mindspace are quiet, secure, and private. Like all of its spaces, these suites can be reimagined to fit the customer's work culture and unique vision.
Flexibility
Mindspace offers a range of customisable office solutions — making it perfect for teams of all sizes. From an entire floor with private meeting rooms to coworking desks or private offices, the company provides like-minded workspaces for a broad scope of professionals. Mindspace also prides itself on its flexibility, with options for monthly or yearly contracts.
UK Serviced Office Operators