Every business has its own needs when it comes to choosing an office. It's essential to identify what you need from your space by asking questions like:
What atmosphere do I want?
What amenities do I want and need?
Which local operators have the best ratings?
How much privacy is necessary?
There's more to consider, of course, but these four factors can help you make the right choice. In combination with the operators' value, location, and experience, you can find the perfect fit. If you're looking for some help with your choice, here's a breakdown of two of the most prominent UK coworking operators: Clockwise and Landmark. ‌ Both companies offer locations throughout the UK, virtual office solutions, and comfortable spaces. The details, though, might make all the difference.


With a presence in England, Scotland, Wales, and Northern Ireland, Clockwise is a flexible workspace operator of 10 locations. It's known for its sleek and well-designed coworking spaces in addition to amenities such as:
Multiple Membership Types
From occasional day passes to a single dedicated desk to an entire private office, Clockwork provides a membership level for every business. Individual freelancers can dip in when they want to use hot desks. At the same time, larger companies can take advantage of fully outfitted private offices with 24/7 access to meeting and breakout spaces.
Private Meeting Spaces
There's no need to give up privacy and security when choosing a coworking space. With a Clockwise membership, you get preferential access to private meeting spaces at all locations, so you can hold efficient meetings in elegant surroundings.
Flexibility
Not every entrepreneur will need the same kind of office space from month to month. As your work ebbs and flows, Clockwise shifts to meet your needs. Monthly rolling contracts allow you to adjust your subscription to meet your needs as you scale. Whether you manage a growing business or see seasonal changes, Clockwise is ready to change with you.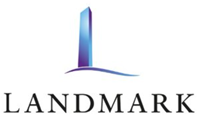 Established in 2000, Landmark has provided flexible office spaces for more than 20 years, making them one of the longest-running operators in the field. They're known for:
Full Service
Landmark provides a team of trained, permanent staff at each location to greet guests and manage spaces. The team helps maintain fully serviced offices and ensures both you and your guests get the help you need. Landmark also provides amenities like unlimited coffee and tea bars at every location, so there's no need to go out in search of your next caffeine fix.
Enterprise-Level Possibilities
Larger businesses need larger spaces. If you need your own private space, you can work with Landmark to reserve an entire private floor to house your employees. Landmark will also work with you to fully outfit your private floor to meet your exact brief.
Modern, Professional Appearance
Landmark has an eye for detail and design along with decades of experience, helping to create a truly professional space. Clients, prospects, and employees alike will appreciate the productive and impressive areas at the 27 Landmark locations.
UK Serviced Office Operators